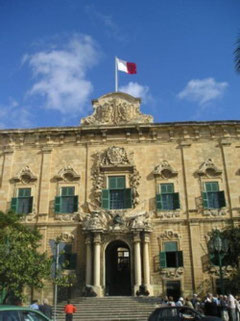 MALTA & GOZO 7000 Years Of History

AUBERGE DE CASTILE VALLETTA
One of the best known buildings that we have in the Maltese Islands must surely be the Office of the Prime Minister, the former Auberge of Castile. This building does not only dominate the square that there is fronting the building, but it also dominates the skyline of Valletta as seen from afar.

Originally the area where we have this building was planned to house the Palace of the Grand Master. But, when Grand Master Pietro del Monte transferred the headquarters of the Order from Birgu to Valletta in 1571, he moved to a different site, and thus the new palace was built where the present edifice is to be found. The same land was taken up by the Castilian and Portuguese knights and they planned the erection of their auberge. The plan was prepared by the Maltese architect Glormu Cassar. The entrance was originally placed in St. Paul's Street, but then it was moved to its present location. The one storey building was not completed before 1588 for various reasons, amongst which there was the chronic lack of funds.

With the accession to the position of Grand Master by the Portuguese Pinto, the old building was pulled down to have a new edifice constructed. The architect was Andrea Belli, while Antonio Cachia was the supervisor of the works. The building is quite impressive and it is one of the best Baroque buildings that we have in Malta.

The facade is very well balanced, and there are also various decorations. The central; part of the facade is heavily decorated. Above the main entrance, which is reached by a beautiful flight of steps, there is the bust of Grand Master Pinto amidst a trophy of arms. The same decorations are taken on the sides of the central window up to the higher sections of the facade. Crowning the whole building there are the coat of arms of the langue.

The building was made use by the British authorities for various reasons. During their occupation of this building the British added some decorations to the facade as well, and placed the two canons that are to be found fronting the entrance. In 1971 the building was transferred into the office of the Prime Minister of Malta, and since that time it has served the country as the official office. It might be of interest also to point out that in the vicinity of the same auberge of Castile there are two monuments to two former Prime Ministers of Malta, Sir Pawlu Boffa and Dr. Giorgio Borg Olivier. It is quite fitting that these monuments should be seen next to this office.