RICETTI MALTIN
Maltese Recipes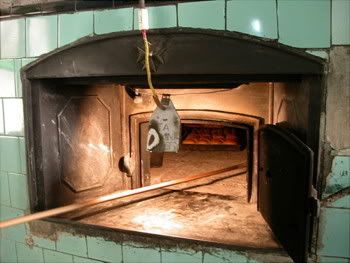 Maltese Stone Oven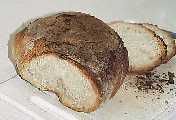 Maltese Bread 
 
Due to the lack of fire-wood ovens in centuries past,
a slow cooking method was used to prepare most Maltese dishes.
 Food was placed in earthenware pots over a little stone hearth called "kenur" which needed constant tending and fanning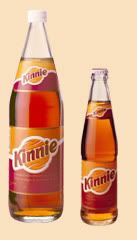 Kinnie Maltese Soft Drink.
Kinnie is a unique tasting, alcohol-free, natural, refreshing beverage. Its golden amber colour, and the fact that it is made from bitter oranges and a variety of aromatic herbs, lend this beverage a bitter taste which is an excellent thirst quencher. This drink is ideal on its own, particularly with a slice of orange. It also mixes excellently with a number of alcoholic drinks and cocktails.
Almost overnight, these distinctive characteristics made it Malta's favourite soft drink, loved ever since by the local population and tourists alike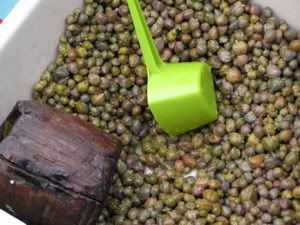 Capers 

 

 

Maltese Beer & Pasta

 

 

 

 

        
MALTA & GOZO © 7000 Years Of History
Display Contents by MoniKs Island

 

 
Hobz Malti-Maltese Bread

Ingredients

600g flour
10g salt
15g sugar
15g margerine
25g yeast
345ml luke warm water
1 tablespoon milk
Method
Mix the four, salt and margerine. Add the yeast. Make a mixture of the luke warm water, sugar and the milk. Add on to the flour and knead the mixture well until the dough is white and elasticated. Place in a bowl, seal with cling film and a wet dish towel, place in a warm place for about 1 hour. Work the dough, cut into small pieces (50g). Place on a baking tray, paste with egg, cut with a knife and let the pieces rest for about 15 minutes. Cook in oven 450F (232C) gas mark 6-8 for 12-15 minutes.
The Maltese take their "Daily Bread" seriously!

 

No mention of Maltese food is complete without a reference to the local bread, and more specifically the popular loaf called 'Tal-Malti' (literally, "of the Maltese"). Very crusty on the outside, yet soft on the inside, many visitors find the combination of taste and texture of fresh Maltese bread irresistible.

Indeed, Maltese bread tastes like no other bread in the world. However, to enjoy it at its best, the 'hobza tal-Malti' must be eaten fresh, on the same day it was baked. You can find typical Maltese bread at most village groceries and supermarkets. However, a visit to a bakery is well worth your while, if only to witness and appreciate the rustic authenticity of the way it is produced - not to mention savouring the enticing aroma of the finished product, fresh out of the oven!

A perfect snack is 'hobz biz-zejt', served in practically every bar or kiosk and still a favourite packed lunch for many. Each bar and household has a different version of the ingredients which make up this popular snack, but they all make a substantial alternative to a quick lunchtime sandwich. The 'hobz biz-zejt' is a large thick round of Maltese bread dipped in olive oiL rubbed with ripe tomatoes and filled with a mix of tuna, onion, garlic, tomatoes and capers. A version made with the unleavened variety of Maltese bread, the ring-shaped Jtira; is just as delicious. In restaurants, smaller portions known as 'bruschetta' are served as appetisers.

First-time visitors to the Maltese Islands are usually pleasantly surprised to realise that a loaf of bread can prove to be such a treat in itself. Some visitors are so taken by this genuine delicacy that they make sure they grab a loaf before boarding their planes, thus taking back home a simple, but incredible slice of Maltese life!

 
 

 

Days in the life of a baker

 I walk into the bread-shop in Victory Street, Qormi, opposite St Sebastian's Church. "Is-Sur Nenu! Bongu!" The customers greet me with smiles, and I greet them back. I feel a sweet satisfaction to see their bags full of the different varieties of bread to which I have dedicated my life.

It was following my wife Angela's inspiration that we bought this shop, which became our first Maypole outlet, and which has now been in operation since 22 years. With eight shops spread all over the island – including one given in franchise – and our constant endeavour to continuously supply other shops with fresh bread throughout the day, we have come a long way since we started.

My father was a baker, as was his whole family. Qormi is known as 'la casa del fornaio' – 'the house of the baker,' and he was a real Qormi man. From a young age, I was naturally inclined to follow in his footsteps. Of his six sons and daughters, only one of my brothers and I became bakers.

My baking career began when I was just 14 years old. I was employed with my father and worked very hard when, in 1969, he bought the Maypole brand from Carmelo Saliba of Pieta. Maypole had been established since 1900 but Carmelo Saliba's children were not inspired to continue along that line.

From 1969 to 1974, my family worked at a bakery in Gzira under the name of Maypole. Maypole was then a favourite in the Sliema area, supplying Maltese and fancy bread (as panini, sandwich bread and so on are known). Maypole was also contracted to supply bread to the government hospitals at the time, and this was a huge portion of our business.

Angela's father, Joseph Zammit, owned that Gzira bakery, and she too was a baker. When we married in 1973, I was just 23 years old but I wanted to open my own business because I was ambitious; my father finally handed over Maypole to me. By 1974, I brought Maypole to Qormi to its original roots.

Our first bakery in Qormi was in Garden Street. Initially the entire bakery was run by my wife and me. We did everything from A to Z. I would rest when I found some opportunity to do so, not according to the time of day. My day began at 4am and ended at around 10pm, but I never thought about the long hours – it felt natural to me... and by night there was so much life in the village in those days! It was a different culture and lifestyle altogether.

In the morning I would make the dough, and then go on my rounds to distribute the bread that was baked during the night for the hospitals. I would return to find the dough ready to be cut and rounded.

It takes a total of about eight hours to make Maltese bread – and this long process is the speciality of it. The recipe requires long fermentation.... of course it may be done in two hours with added yeast but the resulting bread is not quite the same; it is not the original method!

When the first lot of bread was ready, I would sell it from the bakery or make another trip in the van from house to house. Years back, the bread van found the housewife at home, but a gradual change in lifestyle made bread-shops necessary. In the meantime more dough would be setting for later. This would go on through the day, and I would prepare the hospital bread in the evening.

During the times of the ration system, which ended around 1975, we used to have the 'double days,' when we had to work twice as hard. Mondays were the bakers' off days, so on Sundays we had to provide for both that and the following days' ration for those people who were enlisted to obtain their bread ration from us. When the ration system stopped, we started to work daily on a free market.

The ration system was very controlled, whereas afterwards success depended more on the better service than the number of people that would come to us; to be enlisted with us. Those bakers who were used to that system faced difficulties when the competition factor came in.

In 1986, we moved to St Joseph Street, which is also where my father was born and bred. When Maypole was at Garden Street, it was completely traditional, however when we moved to St Joseph Street, we took the opportunity to develop. We enlarged the original premises, and equipped it with more hygienic, modern machinery, which also lightened our work as bakers because it reduced handling.

This change also signified a change in bread culture – Maltese bread remained the main item but we also began producing more of the fancy work, partly due to the changed demand at the end of the rationing system, and also because of the facilities offered by the new equipment.

When our kids were born, from the first day they would be in the bakery with us. I am shocked when I look back and consider how dangerous the two rooms constituting our bakery in Garden Street were, but we were happy.

When the children grew up, all of them participated in the business. We needed them at a young age and they quickly became an integral part of the business as they eased into their roles. They were brought up in the bakery and, therefore, had received indirect training.

However, one of my main disappointments is that there is no bakers' school in Malta. It is great that the skill runs from generation to generation, descending from father to son, but when teaching employees it is a different story. There is a huge expense involved in mistakes. It would be better if they were previously trained, and then simply moulded into a particular method.

When the kids became active in the company, it was a turning point because they helped to expand the business, taking up the workload and distributing the hours. Nonetheless, even today their day is long – from 8am until 11pm.

Nowadays I allow the children to develop their ideas – I do not want to dominate them; I want to be their adviser while they are experimenting, practicing their ideas and expressing their creativity. The girls tend the shops and the boys run the business, while I use my experience for coordination.

Although my baking work has reduced gradually over the last five years, I still go to the bakery every day. I am constantly interested in what is going on in the field and still go to fairs. The world of bread-making fascinates me, and I consider bakery an art.

After I lost the hospital contract, due to a glitch when we switched measure and money to the decimal, I dedicated more time to experimenting with the dough for Maltese bread. The dough is always different depending on the quantities of ingredients, the type of water used, the type of flour, the temperature to which it is subjected and so on.

The dough is made from American, high-gluten, hard-wheat flour mixed approximately 60:40 with European soft wheat, salt, water and yeast. Moreover, Maltese bread is made by a system of sour dough, or mother dough, descending from one days' dough to the next. Dough is alive and I am fascinated by it!

The taste of the bread depends on the recipe not on the type of oven – timing is crucial. The traditional 'forn tal-gebla', or stone oven, involved direct fire using wood or kerosene, whereas the modern deck-oven uses kerosene to heat distilled water running in tubes along the decks. It involves far less manual labour for cleaning, and is also more hygienic.

Much equipment is available to reduce labour-efforts, and technology has improved from the horse-powered dough-maker that I remember as a child, to modern equipment, however the last stage of bread-making – cutting and rounding – is always done manually.

I never complained anyway. The heat from the ovens and the early mornings never bothered me – so many people have hardships in their work! I do reflect though, on the many bread-men or their horses that were killed by bombings while out distributing during the war. Bakers were so essential that they were not allowed to become soldiers, and even today bakers are not allowed to strike. Such importance is given to bakers yet, simultaneously, the baker is no longer esteemed as he should, due to the fierce competition from foreign, long-life products.

I am proud to be a baker. From a young age, I was ambitious and I loved my skill, but I was already about 30 years old when I had an experience which truly inspired me, because I could appreciate how esteemed the baker was on mainland Europe. It was in Italy, when I travelled alone for the first time to a bread-fair – not having previously experienced travelling on trains or anything which was not part of Maltese life. During my baking career, I never went on holiday but I would go to bread-fairs.

Even in recent years, I continued to dedicate long hours to this work because it is my passion, my work and my hobby, all rolled into one. If I was not directly involved in producing the breads, I was working on developing new methods and new products. For example, the wholemeal Maltese bread, which is Maypole's specialty, was developed from a system used in the olden days, as I had heard it from my father. I do not want to lose the Maltese bread. This is the main reason why I am a baker – it is a Maltese heritage and I want to keep it alive! Such satisfaction I derive when I see true appreciation of the Maltese bread... like when, in November 2001, I went to a food exhibition at the European Parliament, together with a number of chefs. There were various exhibits, but Maltese bread was the first to go!

In 2007, I organised a seminar about Maltese bread at the Mediterranean Conference Centre. I invited personalities from various departments – a nutritionist to speak about the health aspects, a priest to speak about the spiritual symbolism, a historian to speak about Maltese bread as part of our heritage, and several other professionals. The prime-minister, opposition leader, and minister of tourism also attended and gave a speech. The event concluded with an offering of various preparations using Maltese bread, amidst presentations of various aspects of Maltese folk culture.

I live my life for this reason.... for the Maltese bread.

 

 
 Kannoli ta l-irkotta

Kannoli shells - the dough
175gr flour,
25gr margarine,
1/3 cup red wine,
1/3 cup water.

Start off by rubbing the margarine and flour together. Next add the red wine and enough water to form a dough. Allow this dough to rest for at least an hour before using.

To make the kannoli shells, you will need stainless steel cylinders which can be bought in any well stocked supermarket, household store or sweet shop. Roll the pastry very thinly and cut into round shapes. The diameter of your shape has to be equal to the length of your cylinder. Now wrap the pastry tightly around a properly greased cylinder and press the edges together. It is very important that you seal the pastry together otherwise it will open up when cooked.

Deep fry the kannoli in hot oil or fat (lard) until golden brown, and allow them to drip and cool on kitchen paper. Once the shapes are cooled, remove the cylinder. The kannoli are now ready to be filled. At this stage you can keep them for weeks in an airtight container.

Here is what you'll need for the filling:
1kg ricotta,
200gr sugar,
100gr Chocolate pieces,
100gr Chopped roasted almonds,
100gr Mixed Chopped candied fruit,
1 tot Ilma Zghar / Amaretto / Vermouth.

Start off by mashing the ricotta with a fork in a large bowl. Now add the other ingredients one at a time, mix well after every addition. This mixing has to be done by hand since an electric mixer would whiz the ricotta too much.

Once the ricotta is properly mixed, you can start filling the kannoli. Always make sure to fill these up at the last minute. Once the kanolli are filled, the pastry will start to soften so make sure to fill them up just before serving.

You can also coat the ends with some crushed nuts and drizzle your serving plate with some icing sugar for decoration.

Bruschetta with Tomatoes and Garlic
Maltese ftira or wholemeal bread
Summer tomatoes
1 Fresh clove of garlic, crushed
Grappolini Extra Virgin Olive Oil
Fresh basil leaves, torn
Salt and freshly ground pepper

Bring some water to the boil. Put the tomatoes in a bowl and pour over the hot water. Leave for a minute to blanch. Drain the tomatoes, peel, halve and deseed the tomatoes. Put the halved tomatoes in a bowl and add all the other ingredients. Stir well and leave to marinate for about 30 minutes. Toast the bread of your choice and top with the tomato mixture. Serve warm.
Easter Figolli

Easter will be celebrated on the 8th of April this year so with only a few days to go I shall be giving you the recipe for the Easter figolli.

This typical Maltese sweet is essentially an almond pie with different shapes. The most traditional shapes are the lamb and fat lady however other animals like ducks or shapes like hearts are also used.

For non-Christians Easter time also coincides with a fresh start, a need to throw away the old and use the new. Spring time when flowers blossom and fields are at their best always signified a new beginning. Nevertheless, things have to be done, and not a season goes by without me preparing my lot of figolli to hand out as Easter presents to my family and friends.

The amounts I am giving you below should give you 10 properly filled figolli. The shapes I use are the standard sizes and not the small ones. Also, the recipe I am giving you is with PURE ground almonds. Should you be using almond substitute, you will probably need less egg whites so add them a little at a time until you form your paste.

I like to prepare the dough the night before, this gives it time to rest as well as it reduces your preparation time on the day.

Here is what you will need:
Makes 10 large figolli

For the dough:
800gr plain flour,
400gr sugar,
250gr margarine,
4 eggs,
1 teaspoon vanilla essence,
3 teaspoons baking powder.

For the filling:
600gr sugar,
600gr ground almonds,
4 to 5 egg whites depending on the size.

Start off by preparing the dough, sift the flour into a large bowl and add the baking powder. Now, add the margarine and rub it in with your hands until it has been completely dissolved into the flour and you are left with a sandy mixture. Now, add the sugar and vanilla and make a well in the middle. Add the eggs and mix the ingredients together to form the dough. Set it aside to rest on a floured surface or place it in the fridge overnight.

Now for the filling, place the ground almonds and sugar together in a bowl and add the egg whites a little at a time mixing after every addition. Once the almond turns into a paste, your filling is done. You should be able to hold the almond paste in your hands and shape it just like you would with pastry.

To prepare the figolli, just roll out the dough to about 0.5cm in thickness and cut two identical shapes. Place a layer of filling on one of the shapes leaving a border around the edge of approximately 1cm. Make sure not to press the filling too much when spreading since this will cause your pastry to lose its shape or widen and the top (identical) layer will not fit.

Now brush the edges with a little water or apricot jam and place the second shape over it. Bake in a pre-heated oven at 180C for approximately 30 minutes or until the figolli have nicely browned.

Repeat the process until you would have used up all your dough.
Easter Kwarezimal


Easter is fast approaching and with the number of emails I received asking me for Easter sweets, I couldn't leave out the Kwarezimal. These sweets are as popular as figolli and also made with Almonds. Together with the Karamelli tal-Harrub, it is said by fasters that they are the permissible sweets during the Lenten period.

Kwarezimal or Quarezimal need a little more attention to prepare than the figolli. What defines the line between perfection or a total mess is the amount of liquid that is added to form the dough so just add a little at a time!

Once the dough is formed, the Kwarezimal are shaped and baked in a hot oven for a very short time. Dressed with golden syrup and nuts your family and friends will not be able to take their hands off!

Here is what you will need:
350gr ground brown almonds (not blanched) with the skin still on,
350gr sugar,
2 and 1/4 tablespoons golden syrup,
4 teaspoons cocoa,
2 teaspoons baking powder,
Half tablespoon of mixed spices,
Lemon Rind,
200gr plain flour,
Salt,
6 tablespoons water.

Place all the ingredients together in a food processor excluding the water and mix using the K-Beater. Now add a tablespoon at a time and mix well after every addition. Do not be afraid to mix the dough on a relatively high speed, no harm can be done by over mixing it.

Adding too much water will result in your Kwarezimal being flat spread out. Once a dough consistency is achieved, take the mixture out of the food processor and allow the dough to rest.

Once this is done, heat the oven to 160C and line your flat baking with baking paper. Now shape your Kwarezimal by hand into rectangles approximately 10cm long and 3 to 4cm wide the height should be approximately 1cm.

Bake the Kwarezimal for 10 to 15 minutes, they should still be soft once you remove them from the oven, but don't worry, they will harden up on cooling.

Now for decoration, heat up some golden syrup until it is runny. Brush the syrup on top of the Kwarezimal then sprinkle some crushed nuts over it
Qaghaq tal-Hmira

Even though we are trying to get through our days with this blazing heat, my readers in Australia are enjoying their cooler winter days. Over the past weeks, I have received a number of emails from ex-pats requesting the recipe for the "Qaghaq tal-hmira" which translates into yeast rings. These are delicious brioche-type rings topped with sesame seeds and baked for not more than 15 minutes. The longest part of the preparation is the resting time.

Even though these are mostly popular in the cooler days, I must say that the last time I baked these was last Sunday afternoon for tea by the beach and they disappeared from my basket in a matter of minutes! So even if you are a Maltese reader, it is worth giving this recipe a shot!

Here is what you need to make approximately 20 rings of about 7 cm in diameter.

500g Plain flour
200g Castor sugar
200g margarine
1 x 11g packet dried yeast
1/2 tsp aniseed
1/2 tsp ground cloves
1 tsp vanillin (vanilla powder)
Grated zest of 1 lemon lemon
180ml luke warm water
Sesame Seeds

Sift all the dry ingredients together in a large bowl and add the lemon zest. Now add the water a little at a time to form a dough. Now allow it to rest in a warm place for over 2 hours or even overnight.

Take the dough out of the bowl and knead it on a floured surface. Next cut small pieces of pastry and roll them round to form a long pipe. Twist the pipe around to form a ring and place it on your baking dish. Once all the rings have been formed, allow them to rest for another hour. Do not worry if the rings puff up and touch each other.

Now brush the top with a little water and sprinkle the sesame seeds on top. Bake in a pre-heated oven at 160C for not more than 15 minutes. The rings should be dark brown on top but still soft when you touch them.
These rings are best served warm but will keep for 3 days in an airtight container.

Qaghaq Tal-Gulglien - Sesame seed rings

Here is what you'll need :
250g self raising flour,
150g butter,
25g sugar,
1 lemon zest,
1 egg beaten.

Sift the flour in a bowl and using your hands rub in the butter until you reach breadcrumb consistency. Stir in the sugar and finely grated lemon zest. Now make a well in the centre and add the egg. Mix the flour in until you form a dough. Since egg sizes vary you might need to add a little water to form your dough if the egg you used is small. Always knead well before adding any water.

Roll the pastry into a sausage shape about 2cm high. Now cut 10cm lengths and twist into rings. Place the rings on your baking sheet and sprinkle with sesame seeds. Bake for about 15 minutes at 180C.

As a variation to the recipe above, you might want to add a pinch of ground cloves to the flour and butter mixture
Bigilla -Broad Beans
Ingredients
1 lb dried broad beans
2tsp. chopped parsley
1 garlic crushed
1 chili pepper
a dash of Tabasco
1 tbsp of mixed fresh mint, finely chopped
2 tbsp olive oil

Method

Soak beans overnight replace water. add salt to taste bring to boil & simmer until beans are soft mash beans and place them in a serving dish Pour olive oil on top Add other ingredients to taste
Prinjolata
The Prinjolata. Prinjolata is an assembly of cake or biscuits, topped with meringue and decorated with chocolate and pine nuts, hence the name prinjol-ata (of pine nuts).

Here is what you will need:

The Cream:
150 icing sugar;
100g margarine;
150ml double cream;
1 tsp orange essence;
500g roughly broken biscuits, sponge or baked short crust pastry.

Decoration:
2 egg whites;
200g sugar;
1 tsp vanilla essence;
1 tsp lemon juice;
1 tot Grand Marnier or brandy;
Glace Cherries;
Pine nuts or Roasted Almonds;
100g Melted chocolate.

Start making the cream by beating the sugar and butter together. Once you have a smooth and light texture, add the essence and cream.

Now in a bowl place your broken biscuits or cake and add the cream a little at a time mixing with your hands or wooden spoon. Once the biscuits stick together stop adding cream.

Place the mixture in your presentation plate or bowl and pile them up into a small pyramid pressing together so that the biscuits stick. It is very important not to add too much cream otherwise the cake mixture will be too soft to stand upright.

Next prepare the meringue for the outer coating. The original prinjolata used to be made with an Italian meringue, but the standard way of preparing a meringue is also good.

Beat the egg whites until soft peaks are formed. Next add the sugar in 3 parts whisking as you add. Add the essence and liquor and beat until hard peaks are formed and the meringue holds its shape.

Cover the pyramid with the meringue and dot with the glace cherries and pine nuts. Finally drizzle the melted chocolate all over the prinjolata.


Lampuki Moqlija
Fried Lampuki

Ingredients

800g.Lampuki
vinegar
salt and pepper
olive oil
lemon
flour


Method

Cut off the head and tail of the fish and clean carefully
wash and cut the fish into four portions
pass through the sifted flour
season and fry both sides on a very low heat till golden
Serves with lemon and fresh salad & chips
Ricotta Pie  Torta Ta L- irkotta
Ingriedents
600 g. rikotta
salt and pepper
S eggs puff pastry or short crust
50g. grated cheese
egg wash
chopped parsley
Method

Mix rikotta with eggs and work to a smooth mixture.
Add cheese parsley and seasoning.
Grease a pie or sandwich tin, line with pastry and fill with rikotta. Egg wash the edges and cover with Pastry. Egg wash and bake in a moderate oven until a nice golden colour is reached. Serve warm.
Ravioli Ravjul


Ingedients
For the dough
200g. plain flour
pinch of salt
150g. semolina
2 beaten eggs
For the filling
400g. rikotta
salt and pepper
2 eggs beaten
4tbsp. grated parmesan cheese
1 tbsp.chopped parsley
Method
Start with the dough mix the sieved flour, semolina and salt carefully, add the eggs and knead until dough is like elastic, if to stiff add a drop of cold water
Rest for 1 hour now prepare the filling.
put all the other ingredients rikotta, beaten eggs cheese parsley salt and pepper into a mixing bowl mix everything well
Divide the dough into 4 pieces and roll into long thin strips dampen the edges with water
Put small balls of rikotta some 2cm from the edge of the pastry and 4cm apart.
Turn one edge of the pastry on the other one and press to seal,
using a ravioli cutter cut out the pastry lOcms away from the filling,
Leave to nest for 10 minutes,
boil in salted water till soft

Serve with tomato sauce and grated cheese
Baked Rice (Ross il-Forn)
Ingredients
2 cups cooked rice
1½ lbs grated cheese
2 tbs bread crumbs
pepper & salt
paprika
50g margarine
2 egg yolks
570 ml milk
Combine the cooked rice, the egg yolks and 21 oz. of grated cheese and mix well. Add the milk and mix again. Grease a baking dish with butter and pour the mixture into it. Sprinkle the bread crumbs and the remaining cheese on top of the mixture. Cut the margarine into almond-sized pieces and drop on top of the mixture. Bake in a moderate oven for about 45 minutes. Serve the rice with fried tomatoes.
Spagetti biz-zalza tal-Qarnit (Spaghetti with octopus sauce)
  1kg Octupus
  224g onions
  168g peas
  224g tomatoes
  112g black olives
  250ml red wine
  674g spaghetti
  84g tomato paste
  herbs
  mint
  lemon zest
  olive oil
  salt and pepper
Method
Peel and slice the onions. Cut the octupus into even sized pieces, fry in a little oil and water. 
Add the tomato paste and herbs, continue cooking for about 20 minutes.
Prepare the tomato, by peeling them and chopping them finely, add to the onions. 
Strain the octupus but save the liquid. 
Slice the olives and lemon zest. Add all remaining ingredients to the first mixture and simmer.
Add the octupus liquid and simmer for another 15 minutes. 
Cook spaghetti until soft or al dente.
Kosksu Bil-Ful  (Pasta with Broad Beans)
  10 oz. Kuskus  small pasta that looks like shotgun pellets
  1 onion
  5 oz. peeled broad beans
  3 oz. peeled tomatoes
  2 oz. tomato paste
  2 sprigs garlic
  mixed herbs
  2 pt. water
Method
Chop the onion and garlic and fry in a little olive oil till golden brown.
Add the chopped tomatoes and tomato paste.
Add the mixed herbs, and the water. Bring to the boil.
add the kuskus, and simmer untill cooked.
Add the broad beans and cook for a further 10 minutes.
Aljotta   (Fish Soup)
Ingredients
 500gr fish (Traditionally fish heads)
  2 large onion
  5 cloves garlic
  4 peeled tomatoes
  I tablespoon oregano (fresh if available)
  2 tablespoons chopped parsley
  2 tablespoons tomatoe paste
  Half cup uncooked rice
  Salt, pepper, olive oil
Method
In a large saucepan heat 2 tbsp olive oil and fry the sliced onions until soft. 
Add the crushed garlic and the herbs. 
Fry for a few minutes then add the tomatoes, salt and pepper to make the salsa. 
Add the fish pieces to the sauce while adding enough water to cover the fish. Ideally use a strainer place the fish in it. 
Cover the pot with a lid and bring to the boil. cook for 30 min until fish meat separates from the bones. 
Remove any bones from the soup and add the rice. 
Cook for another 20 min or until the rice is cooked, but not overcooked
Stuffed Globe Artichokes
4 artichokes
75g anchovy fillets
crushed garlic
150g fresh breadcrumbs
50g olives
oil and vinegar
parsley
salt and pepper
Method
Chop the anchovy fillets, garlic, olives and parsley and mix with the breadcrumbs. Add the oil and vinegar and work into a dry paste. Season.

Wash the artichokes and fill between the leaves with this mixture.

Place the artichokes upright in a small saucepan. Half cover them with water and add some oil. Cover with a lid, bring to boil and simmer for 1 hour. Serve hot.
Minestra (Thick Vegetable Soup)
84g cauliflower
84g carrots
84g pumpkin
56g white onions
28g celery stick
21g tomato paste
56g rice
1250ml water
Slice and wash all the vegetables.
Fry the onions, till tender.
Add all vegetables except the rice.
Add the water, bring to the boil, and simmer till vegetables are cooked.
Add the washed rice. Soup must be very thick.
Bragioli l-Forn (Baked Beef Olives)
8 very thin slices of beef (for 4 persons)
3 hard boiled eggs
8 slices of streaky bacon
4 sausages (preferably Maltese)
Cheddar Cheese (optional)
One red onion
Fresh garlic
Fresh parsley
1 pint of Ale.
Salt and Pepper
Chop the eggs, bacon, sausages and cheddar cheese and mix in a bowl.
Add salt, pepper and fresh parsley, if no Maltese sausage was found, you may add some Coriander Seeds
Open a slice of beef and place approx. 2 tablespoons of mixture towards the edge of the steak
Roll the steak and fold (like a Spring Roll)
Stick a tooth-pick right through, to hold the fold
Preheat oven (half)
In a large frying pan heat some oil, and fry the beef olives with some garlic, till blood is slightly drained
Prepare a medium sized dish, and place the beef olives side by side in this dish
Slice the onion and place in dish
Drown half the beef olives in beer and add salt and pepper to taste.
Cover with baking foil and put in preheated oven for about 45 mins.
Uncover the dish and cook for a further 30 mins.
You may serve with traditional baked potatoes
Rikotta cheese cakes
Pastizzi
Ingredients

For the Pastry

400g. plain flour
½ tsp.salt
200 ml. cold water
125 - 50g. margerine , or lard , or butter

For Filling

400g. rikotta
salt and pepper
3 eggs beaten

Method
Mix the sieved flour and salt with approximately 200ml. of cold water into a soft pliable but not sticky dough, knead well leave to rest for about 90 minutes. when rested, roll stretch and pull the dough on a floured surface, into long strips, spread half the fat over the entire lenth of dough, first with a palette knife then with clean hands, take one end of the dough and roll it up like a swiss roll, make it uneven turning it tightly sometimes then more loosely, rest it in the frig. repeat the rolling and sometimes so that the roll is once more a long strip, spread the remaining fat, roll it up again like a swiss roll this time in a different direction from the first roll, all these rolling enhance the flakiness of the finished pastry, rest it again.
Mash the rikotta with the salt and pepper , add the beaten eggs , cut off pieces of dough the size of a small ball with a sharp knife, pull out each piece with your fingers like a thin disc. place a spoonful of rikotta mixture in the center, close the dough around it and seal the edge with your fingers, place on a lightly oiled baking sheet and bake on 200'c / 400'f /gas 6. for 25 minutes or till golden

Best eaten hot

you can use minced beef, peas and onions, or anchovy, filling instead of rikotta

BRUNGIEL MIMLI - Stuffed Eggplant
Ingredients
4 large eggplants
1 lb ground meat (beef & pork)
2 tbsp margarine
2 eggs, beaten
1 tbsp parsley, chopped
2 tsp tomato paste
1 tomato, chopped
2 oz bread crumbs
1 onion, sliced
3 garlic cloves, crushed
4 oz grated cheese
salt & pepper to taste
Method
Cut each eggplant in half lengthwise, Parboil halves for 10 minutes,
Scoop out the middle and save, fry onion and garlic, add tomato paste, meat, eggplant pulp, tomato, parsley, bread crumbs. cook until meat is done, stirring well
remove from heat, add the beaten eggs, cheese, salt and pepper. Use this mixture to stuff halved eggplants. Sprinkle the tops with breadcrumbs & cheese,
bake in 350-degree oven for about an hour
Serve hot
You can use instead of Eggplant, large marrows or green pepper
Stuffed Pork Flank( falda tal-majjal mimlija)

Ingredients

1kg thick flank
500g grated cheese
chopped parsley
200g minced pork
salt and pepper
Method
Slit the flank with a sharp knife (like making a pocket ).
Mix all the ingredients well. Stuff the flank with this mixture and sew it up. Roast the flank in a medium to hot oven for 2hours or steam for 1 hour 20 minutes. Serve with thick sauce.


If prefared you can add hard boil eggs in the center of the fil
Baked Pork with Potatoes ~MajjaI fil-forn bi-patata
Ingredients

1kg pork (chops or leg)
lO0g onions
600mI beef stock
4 cloves chopped garlic
1kg potatoes
5Og cooking fat
salt and popper
1 tblsp.dried basil
Method
Cut the meat into four portions
Peel the potatoes and onions, and cut into thick slices.
Prepare a well greased baking dish. Put a layer of potatoes and onions, arrange the meat season,
sprinkle the crushed garlic, cover with the remaining potatoes and onions. Add stock and fat then bake for at least 2 hours. on low heat Check the stock frequently, adding more if required.
Small size macaroni with rikotta (called macaronelli)
600g macaronelli
chopped parsley
1 tin chopped tomatoes
parmesan cheese
400g rikotta
salt and pepper
50 g. butter
3 eggs
Boil macaronelli in salted water. When cooked, drain and put into a pan ,
Add butter to macaronelli and cook for a few minutes on a very low heat. Mix rikotta beaten eggs, chopped parsley and seasoning Add rikotta mixture to macaroni top with the chopped tomatoes and cover with the cheese
and continue cooking under a slow grill till golden about 10 minutes.
Bean & Chick Pea Salad
Ingredients
Lima Beans (canned)
Chick Peas (canned)
4 Garlic Cloves (crushed)
Olive Oil
Salt & Pepper
Chopped Parsley
Chopped Mint
Olives
Tomato Paste
Crust Bread
This is perhaps one of the simplest yet most popular quick meals enjoyed by Maltese people, especially in the summer months. It is simple to prepare and can be extremely appetizing. The salad is eaten with crusty bread, spread with tomato paste and dipped in olive oil. Usually, anchovies, olives, canned tuna and fresh tomatoes complete the meal.
Preparing the salad is quite simple. Mix one can of lima beans, one can of chick peas and the crushed garlic with olive oil. Add the chopped parsley and mint . Season to taste with salt and pepper.
Baked Macaroni Pie (Timpana)
Ingredients
14oz flaky dough
2 lbs. uncut macaroni
1lb extra lean hamburger
3 tbs tomato paste
4 well-beaten eggs
2 cups water or stock
1 small finely chopped onion
pepper and salt
14oz grated Parmesan cheese
Uncut macaroni are sometimes hard to find. However you can usually find them in Italian stores. If you cannot get uncut macaroni, substitute with cut macaroni, preferably plain cut macaroni.
 You can substitute Corned Beef (2 cans) for the hamburger. I personally prefer Corned Beef as it gives the Timpana extra flavour.
In a large saucepan, cook the onion until tender. Add the meat and brown for a couple of minutes. Add the tomato paste and two cups of water or stock and mix well. Add salt and pepper to taste. Cover the saucepan and let the sauce simmer for about twenty minutes.
In the mean time, cook the macaroni in salted boiling water till tender, drain, and place in a large mixing bowl. Add the sauce, the Parmesan cheese and the beaten eggs and mix well.
Grease a large baking dish (28x18x4cm Pyrex dish is ideal) with lard or margarine. Roll out the dough and line the dish with the dough. Pour the pasta and sauce mix into the baking dish. Cover the top with dough. Press the edges to seal the dish. Decorate with a dough flower in the middle. With a fork, pierce the dough. Then brush with a beaten egg.
Preheat the oven to 375F (190C) Gas 5. Bake for about one hour. The dough should turn golden-brown.
Serve the Timpana hot or cold in large pieces with grated parmesan cheese.
Flaky Pastry Dough (Ghagina tal-Isfoll)
Making the dough.
8 oz. flour (use common flour)
6 oz. margarine cut into half-inch cubes
6-7 tbs. cold water
dash of salt
First, here are a few secrets you need to know if you are to be successful making this dough!
The key one is that everything you use must be cold! The dough must also be kept cold at all times. The best working surface for the dough is a slab of marble since marble tends to stay cool. Always store the dough covered with a damp cloth in your refrigerator, but before storing it, make sure you remove any loose flour. Always sprinkle the working surface, the rolling pin, and the dough with flour before you start working the dough. Never turn over the dough while you are working it. Instead, turn it flat on the board (or turn the board itself) clockwise before each rolling and always in the same direction. This is one of the hardest doughs to make and you may have to try it a few times before you get it right!
Sift flour and salt together. Divide the margarine into half-inch squares. Drop margarine squares into flour making sure not to squash them. Mix lightly until all margarine cubes are covered with flour (make sure that the cubes remain intact.) Add water and mix lightly with a knife again making sure that the cubes remain intact. If some flower is left loose, add a teaspoon of cold water at a time until all the flour is used. The resulting dough should be very soft.
Sprinkle the dough and the working surface with flour. Work the dough into an elongated shape using your finger tips. Sprinkle some flour on the rolling pin and roll the dough until it's about eight inches long and not more than five inches wide. Now do the steps below exactly.
Fold the lower third toward the top. Now fold the upper third toward the bottom on top of the first fold. You should end up with a three-layered rectangle. With light pressure from the rolling pin, seal the three edges.
Remove any extra flour. Now turn the folded dough anti-clockwise so that the right side is at the top. Roll the dough lightly until it is nine inches long and six inches wide.
Repeat steps one and two.
Cover the dough with a damp cloth and store in the refrigerator for twenty minutes.
Repeat steps one through four, four times.
The dough can now be rolled out to the desired thickness and used for pastizzi or even Timpana
Maltese Cheese and Meat Cakes (Pastizzi)
Ingredients for Rikotta cheese pastizzi
2 lbs. flaky pastry dough
2 lbs. ricotta cheese
salt
2 eggs
Ingredients for meat pastizzi
2 lbs. flaky pastry dough
1 or 2 small onions
1 lb lean ground beef
2 cans of pees
2 teaspoons tomato paste
half a teaspoon spices
Preparing the Rikotta cheese pastizzi
Mix the rikotta cheese with the two eggs until the eggs are thoroughly mixed into the rikotta cheese. Add a bit of salt to the mixture for taste. Roll out the dough (do not make the dough too thin.) Cut the dough into three- to four-inch circles. Put one tablespoon of the rikotta cheese mix in the middle of each circle. Fold each circle from the top and the bottom to the centre and squeeze the edges together so that the pocket is sealed (the horizontal ends should be formed into points.) Put the pastizzi on a margarine greased baking sheet. Bake in a moderate oven (350-425 degrees) for about one hour.
You will need to experiment a bit with the oven temperature and the cooking time. The pastizzi should be a golden-brown colour when they're ready. They're best eaten when they are warm with a cup of good coffee or tea. Enjoy!
Preparing the meat pastizzi
Mince the onions and fry in a bit of oil. When the onions start turning dark in colour add the hamburger. Cook for a bit and then add the tomato paste and the spices. Mix well and then add the pees. Add pepper and salt to taste. Roll out the dough (do not make the dough too thin.) Cut the dough into three- to four-inch circles. Put one tablespoon of the meat mix in the middle of each circle. Fold each circle from the top and the bottom to the centre and squeeze the edges together so that the pocket is sealed (the horizontal ends should be formed into points.) Put the pastizzi on a margarine greased baking sheet. Bake in a moderate oven (350-425 degrees) for about one hour.
You will need to experiment a bit with the oven temperature and the cooking time. The pastizzi should be a golden-brown colour when they're ready. They're best eaten when they are warm with a cup of good coffee or tea. Enjoy!
Zalzett Malti - Maltese Sausage
Ingredients
1 kg. thickly minced pork with fat.  +  100g.salt.
  40g. crashed black peppercorns
  40g. crashed coriander seeds
  5 cloves of garlic
  5 tbsp. chopped parsley  Pork intestines skin (for filling )
Method
  Mix the pork well with the salt, making sure that the salt has dispersed and that all the meat 
  has been salted properly.  
  Add the other ingredients, mix again thoroughly and let it rest in a cool place for half an  
  hour. 
 Using a sausage filler,  fill the skins with the mixture then tie with string at 3-4 inch. apart 
 to form sausage,  
 For drying, prick each sausage with fine pins and hang in the coolest place possible for 2-4    days to dry.

Fenek Moqli (Fried Rabbit)
1 Rabbit
Sunflower Oil
Fresh Garlic
Dry White Wine
Thyme
Salt
Pepper
Cut rabbit in medium sized pieces
Chop some garlic
In a large bowl place the rabbit and cover with white wine
Mix in the garlic, Thyme, and add some salt and pepper
Cover and leave in the fridge overnight or for approx. 6 hrs
In a large shallow frying pan heat some sunflower oil.
Add some garlic to the oil and fry for a few minutes on moderate heat (do not fry till golden brown)
Take the rabbit pieces and fry in large frying pan, turning occasionally, till rabbit cooks well.
You may add salt, pepper and thyme (or your favourite herb)
Sprinkle more white wine occasionally.
Rabbit may be served with French fries and salad.
Carnival Cake (Prinjolata)
One of the traditions in the Maltese islands is the celebration of Carnival. These are 3 days of merriment dating back from the time of the knights. Traditionally also at this time of the year the Maltese delight in eating a cake called "Prinjolata" which as the name implies is made from pine nuts amongst the many ingredients. These can be bought in various sizes from leading confectioners or better still you can make your own.
Ingredents
Biscuit Crust
600gr plain flour
2 teaspoons baking powder
150gr polyunsaturated margarine
2 egg yolks
250 ml cold water
Additional Ingredients
75gr candid peel
50gr pine nuts
50gr flaked almonds
4 tablespoons sherry
To decorate
25gr flaked almonds
25gr pine nuts
2 chopped cherries
Cream
200gr polyunsaturated margarine
300gr icing sugar
6 dessert spoons icing sugar
Frosting
150gr granulated sugar
1 egg white
2 tablespoons water
¼ teaspoon cream of tartar
Melted Chocolate
4 teaspoons cocoa
4 teaspoons icing sugar
6 teaspoons warm water
Method
Mix flour, baking powder and margarine until they resemble fine breadcrumbs.
Bind egg yolks and water till it forms soft dough.
Roll pastry to 1 cm thickness
Bake in oven - Gas Mark 6, 200C, 400F for 35 mins or until golden. Cook and cut into small pieces.
Cream Mix all the ingredients till mixture is light in colour.
Place broken biscuit in a large bowl, add cream, peel, nuts, almonds and sherry. Mix well with wooden spoon. Form in pyramid and press well.
Frosting Put all ingredients in a mixing bowl and suspend over a pan of hot water. Stir until sugar dissolves.
Beat with an electric wisk till mixture is thick and leaves a trait. Cover the cake with the frosting.
Decorate with pine nuts, almonds, cherries and chocolate.
Date Filled Snack (Imqaret)
Ingredients (makes about 30 snacks)
400g Flour
1 tablespoon lard
1 tablespoon margarine
1 tablespoon sugar
1.2 kg pitted dates
1 orange peel grated
1 tablespoon anisette
1 tablespoon orange flower water
A pinch of ground cloves
To make the dough, rub the lard into the flour. Add the sugar and mix. Moisten with anisette and orange flower water until you can form a soft dough.
Next prepare the filling. Mash the dates and mix with the cloves, orange peel, anisette and orange flower water. Note: If the dates are hard, soak in water for about thirty minutes to soften. Drain before using.
Roll the dough out into a long wide strip and spread the prepared filling on the top half of the dough to form a layer about a quarter of an inch thick. Wet the edge of the pastry and fold over to cover the filling. Press all edges well together to seal. Cut into diamond or rectangular shapes (about 3.5 x 2.5 inches.) Fry in deep hot oil till golden in colour. Let drain and eat while still hot. Enjoy
Cauliflower Flan (Torta tal-Pastard)
for four persons
Ingredents
Short crust pastry



800g.califlower
25g. Margarine
25g. Flour
300m1.milk
3 eggs
1 onion
Parmesan cheese
Salt & pepper
Finely chopped parsley
White Sauce
Clean and rinse the cauliflower, put in a deep pan cover with water add the salt and boil till you see that its cooked , when ready put in a sieve and drain all the water, leave till its cool
(White sauce)(On low flame) In a pan melt the margarine then add the onion that you chopped thinly cook till it starts to change color and its soften, ad the flour and stir all the time add the luke warm milk a little at a time while stirring, keep stirring till it become creamy and getting thick, remove from flame,
Mash the cauliflower, add the white sauce, cheese eggs salt and pepper, mix them well
in a flan dish melt a little butter then cover with pastry, add the cauliflower mixture add cheese on top and parsley
cook in a moderate oven for 40-45mintues till top is golden
Stewed Rabbit -

Stuffat Tal-Fenek
Ingriedents
Serves 4 To 6
1 jointed young rabbit
500 g belly of pork, cut into portions
1 medium onion, chopped
4 garlic cloves, crushed
4 small carrots, peeled and sliced
250 g shelled peas
2 bay leaves
1 glass red wine
3 tablesooons tomato puree
oil for frying
salt and pepper
Method:
Heat the oil in a deep casserole and fry the rabbit joints lightly on both sides
remove from the casserole and set aside
fry the pork belly in the same oil and set aside to
fry the onion and garlic in the same oil add the rabbit and pork to the casserole
add the tomato puree diluted in the glass of water bring to boil
add the glass of red wine bring to boil
then lower the heat, add the bay leaves season to taste and simmer for 30 minutes
add the carrots and peas and cook for further 15 minutes or until the rabbit is tender
the sauce should have reduced by half
Serve the sauce with spaghetti as the first meal, and the rabbit stew as the second plate if prefared
Imbuljuta - Hot Chestnut
Ingredients
1 lb dried chestnuts
1 heaped tbsp cocoa
6 oz sugar
A piece of tangerine peel finely chopped

Method
Wash the chestnuts thoroughly. Place them in a large bowl and cover them with water. Leave to soak overnight.
Next day remove any loose pieces of skin. Preserve water for boiling the chestnuts. A pressure cooker will save much of the cooking time. Follow instructions given with pressure cooker. in any case allow to boil until tender.
Add the other ingredients and continue cooking for about half an hour. If the stew is still watery at this stage reduce it by further cooking. taste for sweetness and add more cocoa, if necessary.
Serve hot (Good on a cold Wintery night)
Serves 4 - 5
Buskutteli - kind of biscuits
Ingridients



15g fresh yeast or dried yeast
150m- 175 ml water
400g plain flour
pinch of salt
50g butter
1 - 1 1/2 tsp crashed aninseed
200g caster sugar

Method
Cream the yeast in water, sieve the flour and salt into a bowl, rub in the butter and add the sugar and ainseed make a well and add the yeast and water at least 150ml water is used but adjust this quantity to the flour, bring the mixture together, then turn on a work surface and knead until you have a pliable bread like dough, return to bowl and prove in a warm place covered, until doubled in bulk, this will take longer then bread as the sugar retards the rising,return the dough to work surface, knead briefly to knock it back, form into 4 elongated cakes and bake on a tray at 200c/400f/gas6 until cooked through, approximately 20 mins. allow to cool overnight, cut each cake into thin slices lay out on a try and bake at 180c/ 350f/ gas4, until crisp and golden checking frequently that they do not catch, cool on a wire rack
KWAREZIMAl - Almond Cakes

Ingredients
200 grams blanched almonds
200 grams plain flour, sifted
250 grams caster or golden caster sugar
1 scant tsp cinnamon
Orange flower water
Grated rind of 1 lemon, 1 orange and 1 tangerine
honey and additional almonds

Method
Lightly toast the almonds. Grind coarsely. Mix with the flour, sugar, cinnamon, rinds and a little orange-flower water.
Add just enough water to make a stiff dough. Knead lightly until well amalgamated and shape into ovals,
approximately 17.5 cm long, 5 cm wide and 2 cm thick.
Place on greased and floured baking trays and bake at 190'C/375'F/gas 5 for about 20 minutes.

While still hot, spread with honey and press on the almonds
Green Peppers Stuffed with Lampuki
ingredients
4 large green peppers
25g tomato paste
2 eggs
300g. cooked lampuki
25g chopped Olives
seasoning
150g. cooked rice chopped
chopped parsley
olive oil
50g.onions
little water
Remove the top and inside of the pepper. Keep the top. Heat some oil and fry the onions till golden. Add the tomato paste and let water simmer for 10 minutes. Add the rice, olives, parsley, seasoning herbs and the flaked lampuki. Finally add the eggs. Continue simmering for a further 10 minutes. Fill the green pepper with this mixture. Replace the tops. Bake in a moderate oven for about 60 to 75 minutes. Serve hot or cold.
Date Filled Snack (Imqaret)
Ingredients (makes about 30 snacks)
400g Flour
1 tablespoon lard
1 tablespoon margarine
1 tablespoon sugar
1.2 kg pitted dates
1 orange peel grated
1 tablespoon anisette
1 tablespoon orange flower water
A pinch of ground cloves
To make the dough, rub the lard into the flour. Add the sugar and mix. Moisten with anisette and orange flower water until you can form a soft dough.
Next prepare the filling. Mash the dates and mix with the cloves, orange peel, anisette and orange flower water. Note: If the dates are hard, soak in water for about thirty minutes to soften. Drain before using.
Roll the dough out into a long wide strip and spread the prepared filling on the top half of the dough to form a layer about a quarter of an inch thick. Wet the edge of the pastry and fold over to cover the filling. Press all edges well together to seal. Cut into diamond or rectangular shapes (about 3.5 x 2.5 inches.) Fry in deep hot oil till golden in colour. Let drain and eat while still hot. Enjoy
Village Biscuits
Ingredients 
200g flour
50g margarine
150g sugar
pinch of cloves
1 egg
royal icing
grated orange and lemon zest
pinch of cinnamon
milk 
Method 
        Mix the sieved flour and margarine until the mixture is like fine breadcrumbs.  Mix the egg, sugar and part of the milk.  Add the zest, cloves and cinnamon to the flour.  Add egg and make a smooth paste. 
       Grease a baking dish and sprinkle with the flour.  Make oval shaped biscuits approximately 10cm x 6cm and about 1½cm thick. 
      Sprinkle some castor sugar on the biscuits and bake in moderate over for 20 minutes. 
       Cover to cook.  Decorate with piping of coloured royal icing
Bread Pudding (Pudina)
Ingredients
800 g stale bread
560ml milk
1 tbs margarine
glass of brandy or rum
2 eggs
3.5 oz. Sugar
a few drops of vanilla extract
2 oz. candied fruit
3.5 oz. Raisins
grated peel from one orange
2 tbs chocolate powder
few oz. of crushed almonds
Remove the crust from the bread. Soak the bread in the milk until it becomes soft. Add the margarine, sugar, candied fruit, chocolate powder and the brandy to the bread and milk mixture. Mix well using your fingers. Beat the eggs lightly and add to the mixture along with the vanilla extract and the raisins. Grease a baking dish with margarine and spread the mixture in it. Sprinkle the crushed almonds on top of the mixture and bake in a moderate oven for about half an hour. Serve cold