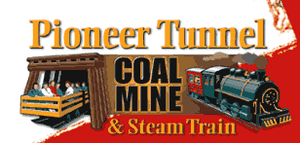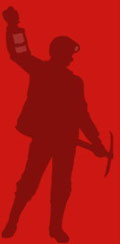 PIONEER TUNNEL COAL MINE & STEAM TRAIN
ASHLAND PENNSYLVANIA
Ashland lies in the anthracite coal region of eastern Pennsylvania.
Although the area abounds in mines,
in the early sixties not one was open to the general public.
So in May 1963, Pioneer Tunnel, which ceased operation in 1931,
was retimbered and reopened as a place where visitors
could experience a real anthracite coal mine.
 The Tunnel affords visitors an opportunity to learn how anthracite coal is mined.
It shows how a vein of coal lies between rock and strata;
it has a gangway, manways, and chutes.
Part of the Tunnel is timbered and part lies in solid rock and requires no timbering..
Pioneer Tunnel is a horizontal drift mine.
Its level tunnel runs 1800 feet straight into the side of the Mahanoy Mountain.  
The temperature inside the mine averages 52 degrees.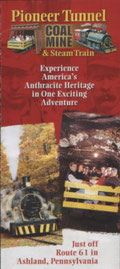 U.S.A.Holiday 26th.April/18th.May 2006