About me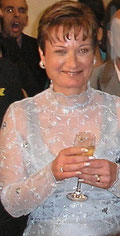 Merħba/Welcome Friends/Visitors
My name is Monica ,nickname MoniKs Island
I'm Maltese and host of this group. I am  a wife to a loving husband,a mother to two beautiful daughters,I live in Tarxien,south of Malta see map below,my age? well that you have to guess :) my  interests are, sharing true friendship with everyone around the world,by surfing the internet,& promoting the historical & beauty of my home,the Maltese Islands.The Maltese Islands are a group of Islands in the middle of the Mediterranean Sea,surrounded by deep clear blue sea.The Maltese Archipelago lies virtually at the centre of the Mediterranean, with Malta 93kms south of Sicily and 288kms north of Africa.The main Islands are Malta and Gozo,apart from these two islands there are several smaller islands Comino (Kemmuna),Filfla,Manuel Island,Cominetto (kemmunett)and the islands of St.Paul.So come on in,and better yet, stay a while. It is my pleasure to welcome you here,get yourself a cup of tea/coffee pull up a chair,relex,brouse on the left boards .Hope that you will enjoy your tour.And hopefully you'll join in.
 Although posting often is not a requirement....but it would be nice to hear from you now and then......*smile*,
Are you Maltese ? or Maltese decendent ?
or may be you have visited the Maltese Islands as a tourist in the past,
and you have wonderful memories ? or you might have been disapponted while you were here,or who knows you might just have booked a flight to Malta,or may be you intend to visit in the future,lets share memories,photos,anything that concerns Malta & Gozo.
You are also welcome to share with us your country where you live,I'm sure you have lots to share,as every country has its beauty.I'm still working and adding pages,
Oh by the way thats me up there :) I know what you're thinking,no I'm not an everyday glittery lady that occasion was  at my daughter's wedding.I'm very casual in my every day life.
If for some reason at the moment you can't join,don't worry come back another time when you can, I appriciate if you leave your comments in my guest book.
.
Note: Please apply for joining only
Many Thanks - Grazzi Hafna