USA Holiday
26thApril/18th.May2006
TO SALLADA / EDWARDS FAMILY
Thankyou word can not express how much it means to me,
all I can say is you would only know if you went into the depth of my heart.
Besides you gave me a memorable holiday in Valley View P.A. U.S.A.
You welcomed me and gave me the opportunity to be part of your loving family,
which I will always
cherish all through my life
GRAZZI- Thankyou
Hugs Monica

The world's first service club was the Rotary Club of Chicago,
founded February 23,1905 by Paul Harris and three of his friends.
The name "Rotary was derived from the early practice of rotating meetings among the member's offices.Today Rotary is a growing organization of well over one million volunteer busniess and professional men and woman united worldwide.
Best described by the motto "SERVICE ABOVE SELF" Rotarians provide humanitarian sevice encourage high sthical standards in all vocations,and build universal peace and goodwill.Rotary International is the association of over 27,000 Rotary Clubs located in 150 countries.
Each club meets weekly and determines its own service activities,Currently,Rotary International is encouraging clubs to focus on illiteracy,drug abuse prevention,childhood immunization,and helping the young and the erderly.
The Four-Way Test
of the things we think,say,or do
1st......Is it the TRUTH?
2nd......Is it FAIR to all concered?
3rd......Will it build GOOGWILL & BETTER FRIENDSHIPS?
4th......Will it be BENEFICAL to all concered?
THE HEGINS- VALLEY VIEW ROTARY CLUB
District 7370 PA.U.S.A.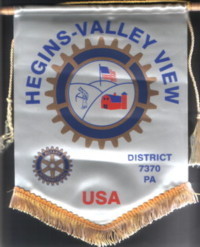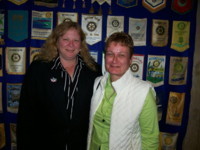 Susan K Sallada (left)
joined  Hegins-Valley View Rotary Club  July 22nd.1991
1997-1998 as President,
1998-2004 as Secretary
Photo by Alice M. Kissinger 10 May 2006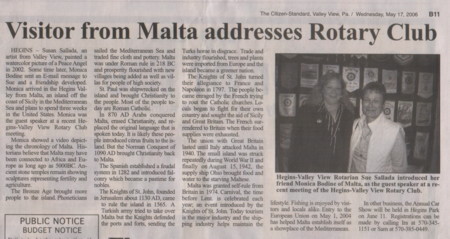 From: Alice M Kissinger
To: The Citizen Standard ; Sentinel News ; West Schuylkill Herald ; Republican Herald ; Pattie Rauch
Sent: Friday, May 12, 2006 1:08 PM
Subject:  Sue K Sallada & Monica Bondin (Hegins-Valley View Rotary Club)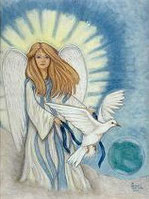 Susan Sallada, an artist from Valley View, painted a watercolor picture of a Peace Angel in 2002.  Some time later, Monica Bondin sent an E-mail message to Sue and a friendship developed.   Monica arrived in the Hegins Valley from Malta, an island off the coast of Sicily in the Mediterranean Sea and plans to spend three weeks in the United States.

    Monica showed a video depicting the chronology of Malta.  Historians believe that Malta may have been connected to Africa and Europe as long ago as 5000BC.  Ancient stone temples remain showing sculptures representing fertility and agriculture.

    The Bronze Age brought more people to the island.  Phoneticians sailed the Mediterranean Sea and traded fine cloth and pottery.  Malta was under Roman rule in 218 BC and prosperity flourished with new villages being added as well as villas for people of high society.

    St. Paul was shipwrecked on the island and brought Christianity to the people.  Most of the people today are Roman Catholic.

     In 870 AD Arabs conquered Malta, erased Christianity, and replaced the original language that is spoken today.  It is likely these people introduced citrus fruits to the island.  But the Norman Conquest of 1090 AD brought Christianity back to Malta.

    The Spanish established a feudal system in 1282 and introduced falconry which became a pastime for nobles.

    The Knights of St. John,  founded in Jerusalem about 1130 AD, came to rule the island in 1565.  A Turkish army tried to take over Malta but the Knights defended the ports and forts, sending the Turks home in disgrace.  Trade and industry flourished, trees and plants were imported from Europe and the island became a greener nation.

    The Knights of St. John turned their allegiance to France and Napoleon in 1797.  The people became enraged by the French trying to rout the Catholic churches.  Locals began to fight for their own country and sought the aid of Sicily and Great Britain.  The French surrendered to Britain when their food supplies were exhausted.

    The union with Great Britain lasted until Italy attacked Malta in 1940.  The small island was struck repeatedly during World War II and finally on  August 15,  1942, the supply ship Ohio brought food and water to the starving Maltese.

    Malta was granted self-rule from Britain  in 1974.  Carnival, the time before Lent. is celebrated each year; an event introduced by the Knights of St. John.  .Today tourism is the major industry and the shipping industry helps maintain the lifestyle.  Fishing is enjoyed by visitors and locals alike.  Entry to the European Union on May 1, 2004 has helped Malta establish itself as a showplace of the Mediterranean.

   
Alice M. Kissinger, Public Relations